Pikler's triangle is a children's climbing frame, which children can use from 6 months onwards, and it is useful for at least six years, almost until they go to school. When not in use, it can be folded, and in most cases it becomes a regular inventory at home, displayed in the living room or in the children's room, because children absolutely love it! There are really many ways to use Pikler's triangle, the best six will be described later in the article. We have highlighted only the most common uses of Pikler's triangle, but if we had asked our children, they would surely have highlighted many more! But before we move on to use, a few more interesting facts about Pikler's triangle.
What are the main advantages of Pikler's triangle?
Climbing Pikler's triangle allows children to master basic motor skills such as grasping, standing, crawling and climbing at an early age. It can be used there until the age of five or even six, as the possibilities of use are really huge. For this reason, the Pikler triangle wooden climbing frame is also an excellent purchase for larger families with a relatively small gap between children. While one of the children is climbing on the back, the older one is already going down the board or parking his cars below. Leave them alone with Pikler and see what they all remember!
Pikler's triangle is already useful for babies
The youngest children, for example, use the Pikler triangle by playing under it. On the upper inside, parents can place a carousel or "mobile", some colorful pendants, contrasting pictures or something else that attracts the babies' eyes. Many children walk for the first time and take their first tiny steps next to Pikler, as it provides a stable support and a safe environment to start moving. When they are a little bigger and turn from babies into lively toddlers, they use Pikler's triangle by holding on to the poles and, when ready, pull themselves up independently, and when they are a little bigger, they are already climbing and descending the board independently.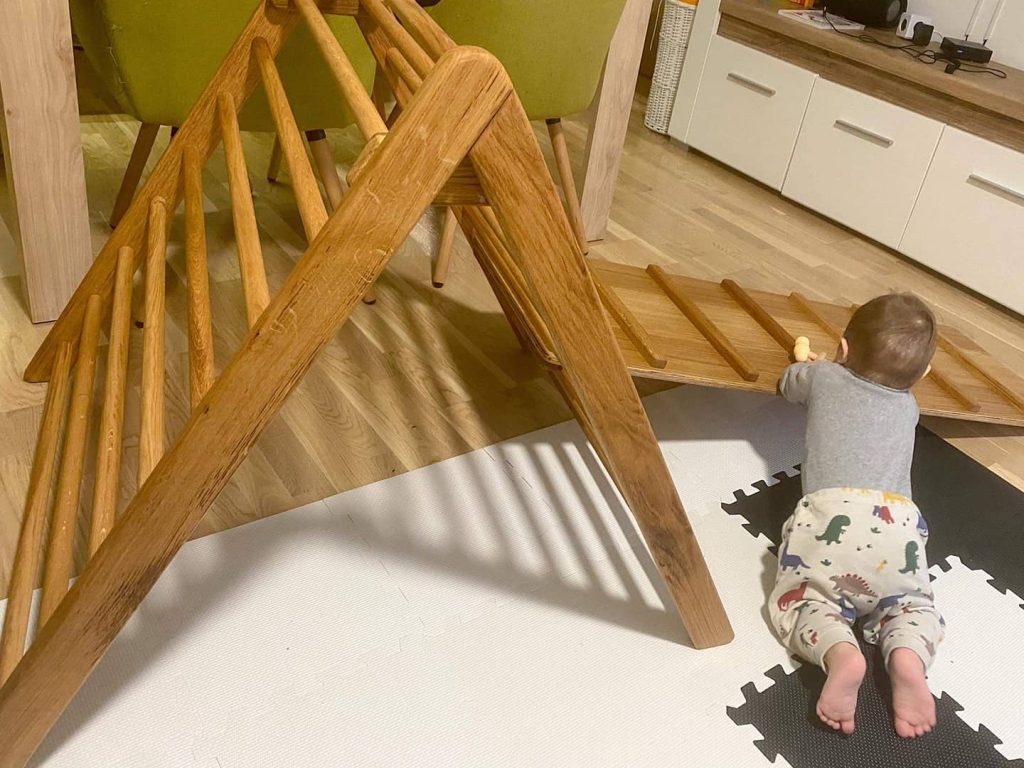 Pikler's triangle as an excellent training for a toddler
Older children can climb the Pikler triangle from both sides, use the board as a slide, make a shelter or hiding place with a blanket, use the Pikler triangle as a tent, a secret bunker, and there are thousands of similar possibilities that only a child's head can think of. By using the Pikler triangle, children strengthen different muscles in the body while developing their imagination. From Pikler's triangle, they can also jump, slide down, hide… and along with their development, their game evolves!
Different ways to use Pikler's triangle
In the following, we highlight some examples of the use of Pikler's triangle as an aid in the development of a child's play, motor skills, imagination and training of various muscle groups. That being said, the possibilities are endless, but we highlight some of the most popular ways to use Pikler's triangle among children.
Pickler's triangle as a climbing wall
Most obviously, of course, you can use Pikler's triangle as a climbing wall, on which the child climbs with his hands and feet, carefully choosing his grip and step and thus practicing basic motor skills. on the other hand, when he is a little bigger and more skilled. This is very fast when using the Pikler triangle, as it has a positive effect on the development of children's motor and movement skills! It is its own private playground in the warm embrace of home! Which is a huge advantage especially in the colder months!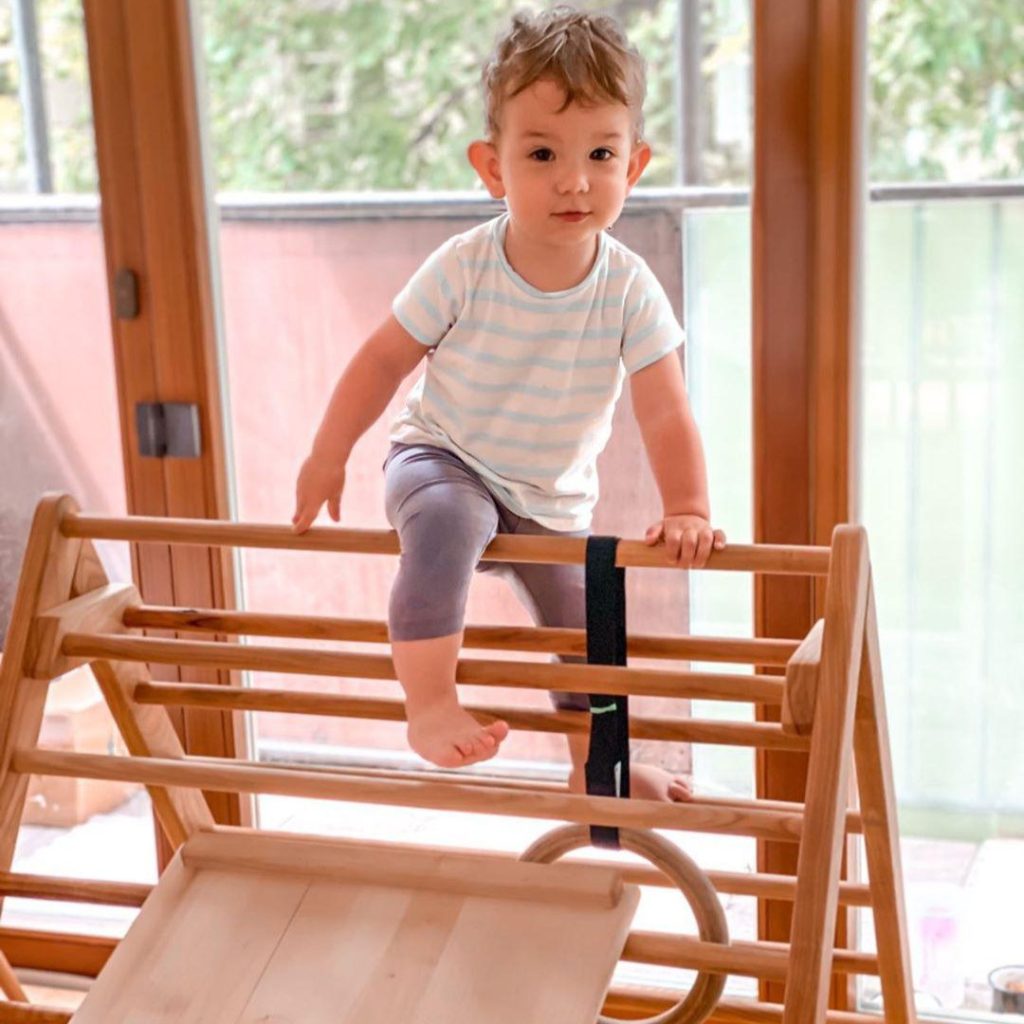 Pickler's triangle as a tent or nesting box for reading

Pikler's triangle can also be a comfortable refuge, bunker or fortress. With a little child's imagination, it can be transformed into a spy hideout, a place to test new lights or serve as a cozy reading corner if you put pillows and a blanket underneath. Pikler's triangle thus becomes a real children's playpen. And if there's one thing we know, it's that kids absolutely love tents! When you're small, everything around you seems so big, but in the embrace of the tent you feel safe, protected, but also a little naughty and mysterious! Tents are the law!
Pickler's triangle as a clothes rack
All girls will probably quickly realize that they can display their dolls' wardrobes on the Pikler triangle and thus choose more easily what to wear. After all, they can hang on the triangle what they will wear the next day or the board can serve as a catwalk for barbies. Many girls and boys play with their mini washing machine and use the Pikler triangle as their very own rack for hanging laundry. In this way, they learn practical tasks that will accompany them throughout their adult lives. Long live independence!
Pickler's triangle as a slide
With Pikler's triangle, you also receive a board that on one side allows children to climb on it, as it has wooden transverse boards, while the other side is flat and at the right angle, children can go down it just like on a real slide! And that in your little room! Crazy! As already mentioned, children don't just slide themselves down the slide, sometimes teddy bears, cars, dolls, barbies and the like become the main actor of breakneck descents.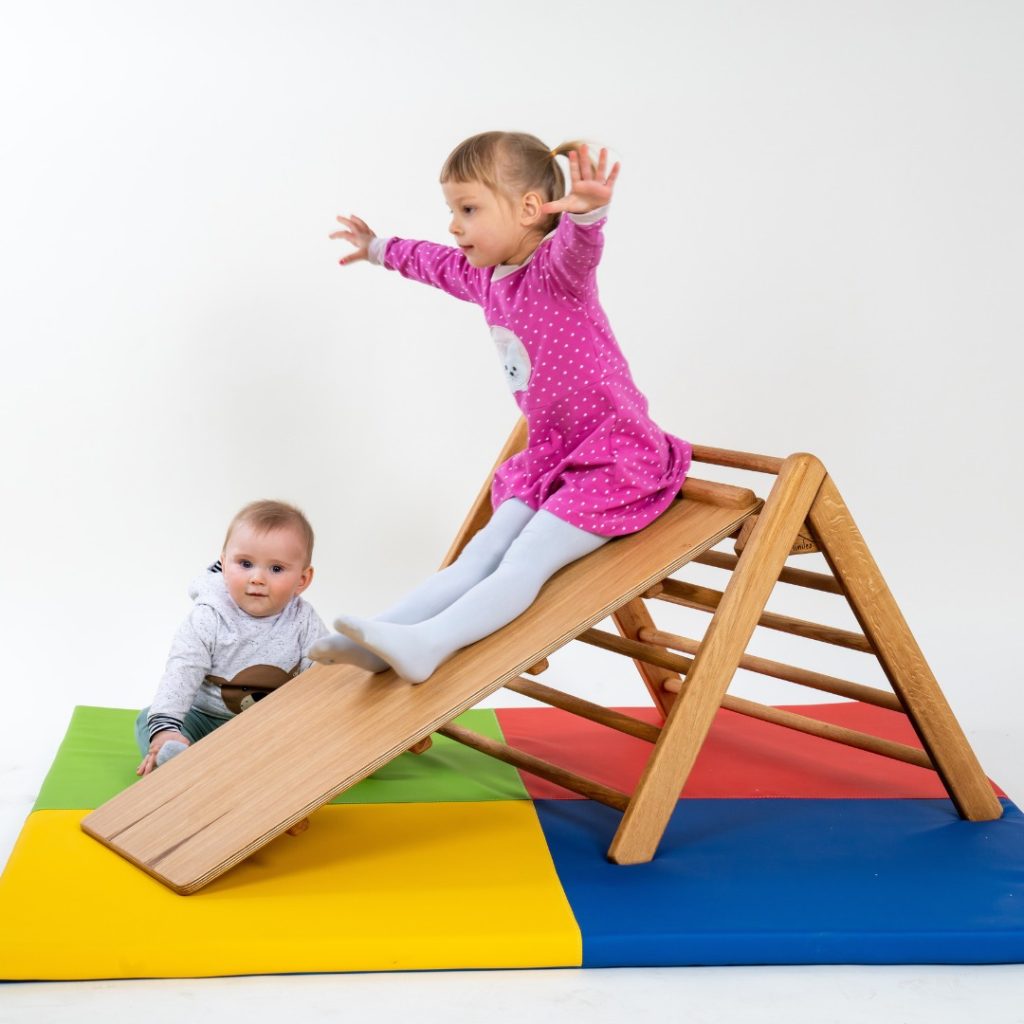 Pikler's triangle as a racing track for cars
If the girls will discover the board as a promenade and a fashion boulevard for their dolls, the boys will quickly realize how much fun it is to launch cars on the Pikler triangle board! Get ready for exciting races, spectacular maneuvers and playful hours when little ones find out how easy it is to turn Pikler's triangle into a racing track, a jump or a parking lot for cars, buses and trucks. Well, even the construction site can easily become Pikler's triangle, now that we remember our children's game.
Pikler's triangle as a ladder to reach higher cabinets
Children will quickly find that they can move the Pikler to things out of their reach and use it as a makeshift ladder. As we say, children's imagination knows no bounds! Pikler's triangle is indeed a very versatile children's toy, as well as an aid that gives children maximum independence and help with everyday tasks. For all those who would like to enable their children to be independent when cooking, brushing their teeth or other tasks in which they can help us, we offer Helpers made of different types of wood!
Pikler's triangle and Montessori pedagogy
Many people associate Pikler's triangle with Montessori pedagogy, mainly because it encourages children on the path of independence and independence. Miniles Pikler's triangle is also an environmentally friendly choice that stimulates children's imagination, and it is a toy without artificial coatings or other harmful substances. These are all principles that are a pillar of pedagogy, which is extremely popular today and has also become the basis for many kindergartens, schools and educational institutions. Even Tina, when we started a family, simply fell in love with Montessori principles.
Where does the word Pikler's triangle come from?
The name Pikler was given to the toy after the Hungarian pediatrician Emma Pikler. Together with her husband, who was a mathematician, upon the birth of their first child, they decided to give the child freedom of movement and patiently wait for his development, with the goal of promoting healthy, optimal motor and mental development. The experience helped Pikler build her view that a child should be encouraged to move and play, and that every detail is important when dealing with a child and its environment. Of course, we couldn't agree more.
Miniles Pikler's triangle is made of solid wood
The charm of our Miniles Pikler triangle also lies in the fact that it does not need to be adjusted in any way as the child grows, as the frame of the triangle together with the board is the basis for all the ways in which the climbing can be used. Once it's at home, whole generations of children can use it, or it can be passed on to the extended family! High-quality solid Slovenian wood is very durable and truly resistant to the test of time! It is precisely manufactured and assembled. You will also receive the assembled one. No annoying instructions and losing your temper!
Safety of using Pikler's triangle
Miniles Pikler's triangle is completely safe to use, as it is ground to perfection, without rough parts, screws or anything else that could hinder the child's play or distract him during movement. Jure and Tina developed it together with their two sons and really finished it down to the last little detail. That's why Jure guarantees quality long after the purchase. He makes each piece by hand from Slovenian wood, assembles it himself in his workshop in Kamnik and thoroughly inspects it before sending it to the customer. To protect the wood, he uses a completely natural coating, Odie's oil, which at the same time beautifully emphasizes the solid wood.